1-year fixed rate mortgage
The 1-year fixed rate mortgage lets borrowers lock in the interest rate and payment on their loan for a term of 1 year. At the end of the term, the mortgage comes up for renewal.
How 1-year fixed rates work
Interest rates on 1-year fixed mortgages trend closely with Government of Canada 1-year bond yields. Lenders generally charge borrowers the current yield plus whatever premium they deem appropriate based on current market conditions and the competitive environment. In financial terms, the difference between what banks pay in interest on a government bond and what they charge customers is called the 'spread,' and it's generally between 1% and 2%.
As you can see below, 1-year fixed mortgages have followed bond yields closely over the last decade, rising in the years leading up to the 2008 recession and then falling sharply: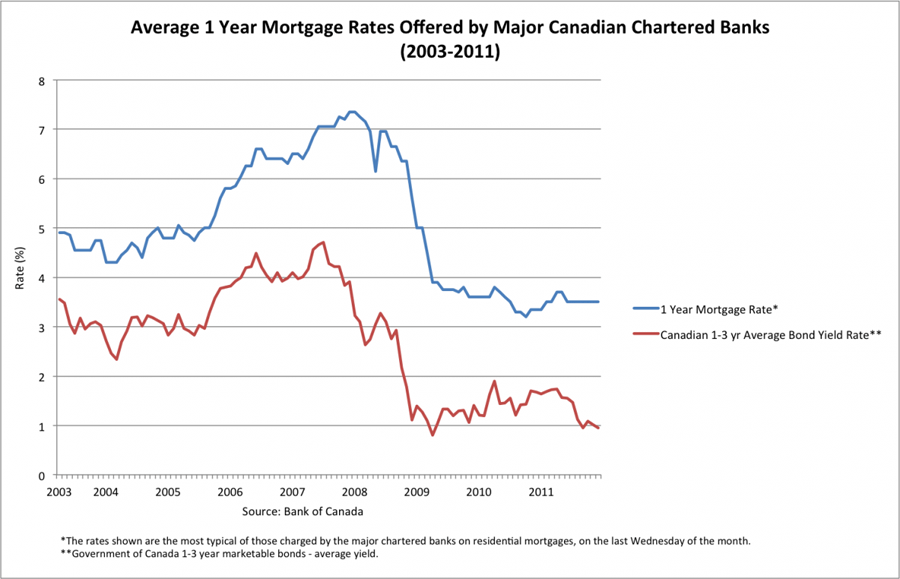 Why you should take a 1-year fixed rate
Only about 6% of Canadians choose 1-year mortgage rates, but there are many good reasons to do so.
You get 12 months of interest rate protection and can do whatever you want with your mortgage at the end of the year, without penalty.
1-year mortgages are an ideal option for borrowers who want to see what the interest rate environment looks like in a year.
It's a low-interest alternative to the variable rate. The 1-year fixed rate is a good compromise for borrowers who are worried about Bank of Canada rate hikes.
Bond yields have fallen a lot, so interest rates on 1-year fixed mortgages are almost as low as their variable rate counterparts.
It's no secret that the 1-year fixed mortgage is an excellent choice in today's declining interest rate environment. Borrowers can enjoy rock bottom rates for a year and then find even lower rates later when their mortgage comes up for renewal.
The 1-year fixed rate has some downsides
You may pay a bit more than you would with a good variable rate product. Variable rate mortgages have interest rates close to or the same as the prime rate, and have historically outperformed fixed rate mortgage products most of the time. The past five years have been no exception: