Compare the best current mortgage rates in Saskatchewan for free.
On average, Canadians save thousands of dollars per year by comparing rates with us.
Compare rates from 50+ of Canada's top banks and brokers in 3 minutes.
Compare rates from Canada's top banks and brokers

22,492

Canadians

have compared rates and saved money over the last 24 hours
January 28
This ppl are amazing and very…
This ppl are amazing and very understanding my situation. The costumers Services...
Glenda Amaya
January 28
Excellent service
Excellent service, very professional and helpful. Waiting for the response from ...
Nazira Rawjee
January 25
Fastest way to see what's on the mortgage market
Tried LowestRates.ca first time and was surprised by the friendly, fast and comp...
Grey Wolf
January 24
Excellent and efficient
Excellent and efficient, friendly service.
Lola
January 24
choice!!!!!
choice!!!!!
chrischristoff
January 22
There service is great
There service is great, I have no complaints. 👌
HeronBeckford
January 21
Preparedness on behalf of contact team
Preparedness on behalf of contact team
TerryPetznick
January 20
Great customer service!
Great customer service!
Ron Zeraldo
January 17
Very prompt service and friendly staff
Very prompt service and friendly staff
Roberta Boswell-Gobay
January 13
Extremely quick and helpful response
Extremely quick and helpful response
KrisEggleton
January 12
Simple to use website.
Simple to use website. Range of prices for different companies . Very quick foll...
Roy Bucciol
January 11
Representative was very professional…
Representative was very professional and answered all my questions.
tek
January 6
Very professional and have patience…
Very professional and have patience answering my questions
ReynaldoBautista
January 5
timely response straitforward discussion.
timely response. straitforward discussion.
garnetmoore
December 31
Professional knowledgeable staff
Very quick response to my application. Professional knowledgeable staff. Smoot...
Jamie Hotrum
December 22
Barrett was extremely helpful and…
Barrett was extremely helpful and patient! I just moved back to Ontario and he h...
Leiah Otten
December 20
Great customer service.
Great customer service.
Narendra Naraine
How comparing
mortgage

quotes works. Hint: it's free!
Share
First, choose whether you're buying a new home, refinancing or renewing, and fill in a few details. It only takes 3 minutes, and it's 100% confidential.
Compare
Next, we'll show you quotes from 50+ Canadian banks and brokers. It's free, with no commitment.
Save
When you find the best quote, secure your Saskatchewan mortgage rate by talking to a licensed broker or agent.
Compare mortgage rates in Saskatchewan.
LowestRates.ca brings Saskatchewan borrowers the lowest rates from 50+ banks and brokers across Canada. Comparing rates on our site is free, takes a few minutes, and there's no obligation to take the rates offered to you. You'll be able to quickly find who has the best mortgage interest rates in Saskatchewan.
Check out the charts below to find out how much you can save on interest and see how the province's housing market has been performing.
Cha-ching!

Our rates are always lower than the posted bank rates.
Current lowest posted bank rate
6.90%
Conventional vs. high-ratio mortgages: which is cheaper?
In Canada, there are two main types of mortgages homebuyers can get based on the size of your down payment: conventional mortgages and high-ratio mortgages.
A conventional mortgage refers to a contract where the homeowners have put at least 20% of the home's price towards a down payment. A high-ratio mortgage refers to a contract where the homeowners have put less than 20% of the home's price towards a down payment. Homebuyers with high-ratio mortgages also need to purchase mortgage insurance from the government-owned Canada Mortgage and Housing Corporation (CMHC).
Mortgage default insurance can also be purchased from two private insurance companies: Sagen or Canada Guaranty.
Conventional 5-year fixed mortgage rates vs. high ratio 5-year fixed mortgage rates in Saskatchewan
| Date | Average Conventional Rate | Average High Ratio Rate |
| --- | --- | --- |
| 02/22 | 2.76% | 2.49% |
| 03/22 | 3.06% | 2.79% |
| 04/22 | 3.64% | 3.37% |
| 05/22 | 4.05% | 3.73% |
| 06/22 | 4.38% | 4.02% |
| 07/22 | 4.88% | 4.50% |
| 08/22 | 4.78% | 4.36% |
| 09/22 | 4.76% | 4.36% |
| 10/22 | 5.11% | 4.71% |
| 11/22 | 5.43% | 5.13% |
| 12/22 | 5.22% | 4.81% |
| 01/23 | 5.19% | 4.75% |
Last Updated: February 1, 2023
Fixed rate vs. variable rate mortgages: which is cheaper?
After you've determined how much money you're able to put down to purchase your home, you'll then need to decide whether you prefer a variable or fixed rate structure.
Fixed rate mortgage: A fixed rate means your interest rate will remain the same for your entire mortgage term. With a fixed rate mortgage, you don't have to worry about interest rate adjustments, as you're locked in with the rate your lender assigned to you at the beginning of your term.
Variable rate mortgage: A variable rate means your interest rate can be adjusted during your term based on market conditions. Depending on the market's direction, you could end up paying either more or less in interest on a variable rate mortgage.
There's no right or wrong answer when choosing between a fixed rate and a variable rate in Saskatchewan — it depends on your risk tolerance and present circumstances. A fixed rate mortgage offers more stability due to the predictable payment schedule, but is usually the more expensive option. A variable rate mortgage typically yields more cost savings in the long run. However, it still leaves you vulnerable to higher interest charges should rates rise. In Saskatchewan, a 5-year fixed rate mortgage is the most popular among homebuyers.
Like the rest of Canada, Saskatchewan fixed and variable mortgage rates remain low. In January of 2021, fixed and variable rates on a 5-year mortgage in Saskatchewan were nearly identical. With low mortgage rates dominating the market, there's ample opportunity to find the best mortgage at the cheapest rate in Saskatchewan.
5-year fixed vs. 5-year variable mortgage rates in Saskatchewan
| Month | Fixed | Variable |
| --- | --- | --- |
| 02/22 | 2.67% | 1.26% |
| 03/22 | 2.99% | 1.52% |
| 04/22 | 3.53% | 1.87% |
| 05/22 | 3.91% | 2.26% |
| 06/22 | 4.26% | 2.70% |
| 07/22 | 4.73% | 3.21% |
| 08/22 | 4.49% | 3.74% |
| 09/22 | 4.53% | 4.32% |
| 10/22 | 4.68% | 4.45% |
| 11/22 | 5.24% | 5.06% |
| 12/22 | 4.97% | 5.34% |
| 01/23 | 4.87% | 5.67% |
Last Updated: February 1, 2023
Factors that affect your Saskatchewan mortgage rate
So, what is the best mortgage rate you can get in Saskatchewan? It depends. Several factors determine the interest rate lenders will offer, and each lender has their own criteria. Here's what lenders look at when you submit your mortgage application:
Down payment: Your down payment will have the greatest influence on your mortgage rate. In general, a large down payment for a Saskatchewan mortgage is preferable to a small one, as it can improve your chances of securing a low interest rate. Across Canada, there are rules around minimum down payments, depending on the price of the home.
A home that costs less than $500,000: the minimum down payment is 5%
A home that costs between $500,000 and $999,999: the minimum down payment is 5% on the first $500,000 and 10% on the amount above $500,000
A home that costs $1 million or more: the minimum down payment is 20%
Technically, it's possible to acquire a mortgage with no down payment in Saskatchewan if you pay for it using a loan. However, banks and trust companies are prohibited from issuing down payment loans, so you'll need to find an alternative lender to provide you with financing. Zero-down mortgages in Saskatchewan are uncommon and aren't recommended because they're riskier and more expensive.
Debt service ratios: Your ability to handle mortgage payments is a critical factor that lenders assess when assigning your mortgage rate. They do this by analyzing two debt service ratios:
Gross debt service ratio (GDS): The GDS ratio takes your housing costs and divides it by your gross annual income (gross means before taxes). Housing costs include your mortgage, property taxes, heating, and 50% of your condo fees (if applicable). To be considered for the lowest mortgage rates in Saskatchewan, lenders want to see a ratio lower than 35%. If your debt-to-income ratio is high, this indicates to lenders that you may have difficulty keeping up with mortgage payments.
Total debt service credit ratio (TDS): In addition to housing costs, the TDS ratio incorporates other debt you carry, such as credit cards and auto loans. The ratio calculates how much of your gross income you use to cover all of these costs. A good rule of thumb to follow is to keep this ratio below 42%.
Credit score: Your credit score is a financial metric that measures how creditworthy you are. In Canada, credit scores range from 300 to 900. When you apply for a mortgage, lenders will review your credit history to gauge your ability to manage debt. A high score indicates that you can handle credit responsibly and pay your bills on time. On the other hand, a low credit score signifies that you have a history of not paying bills on time and carrying a lot of unpaid debt. To increase your chances of obtaining a low mortgage rate in Saskatchewan, strive to maintain a credit score of at least 680.
Saskatchewan home buyers with bad credit can expect higher mortgage rates to compensate lenders for the increased risk of default. Private mortgage lenders in Saskatchewan charge higher rates than banks, and as a result, may be more willing to provide financing for those with poor credit.
Employment and income: Lenders will require proof that you have a steady income to cover your mortgage payments. Whether you earn a living through a job, a business, rental properties or investments, you must submit documentation that shows you have a reliable income stream. Some commonly requested documents include your tax return, pay stub, and bank statements if you're employed. If you're self-employed, expect to provide more details, such as financial statements, business license, business credit score, and contracts showing expected future revenue.
Typical mortgage amount in Saskatchewan
While researching the best fixed or variable mortgage rates in Saskatchewan is crucial, your mortgage size needs just as much attention. Your home's price and your down payment will ultimately determine how large your mortgage will be.
According to the Canada Real Estate Association (CREA), the average price for a home in Saskatchewan is $274,545 as of January 2021. If you put down 20% as your down payment ($54,909), your mortgage would be $219,636. This amount doesn't include the interest costs you'll pay for the duration of the mortgage, which will vary based on your interest rate and amortization period.
In Saskatoon, the benchmark home price is $300,500. With a 20% down payment ($60,100), this translates to a mortgage value of $240,400.
In Regina, the benchmark home price is $268,300. The mortgage amount would be $214,640, assuming a 20% down payment ($53,660).
To determine how large of a mortgage you can commit to in Saskatchewan, use a mortgage affordability calculator to crunch some numbers. The calculator utilizes Saskatchewan mortgage rates, home prices, down payment, and other details to estimate your mortgage payment amount.
Another mortgage cost you need to be aware of is CMHC mortgage insurance. Remember, if you have a high-ratio mortgage with a down payment of less than 20%, you must get mortgage insurance. The amount you'll have to pay in CMHC insurance premiums will depend on the size of your down payment. The higher your down payment, the smaller the premium. You can choose to pay the premium upfront as a lump sum or add it to your mortgage.
Saskatchewan's housing market and home prices
Saskatchewan's housing market has experienced strong growth in recent years. While demand for Saskatchewan properties going into 2021 continues to climb, prices have begun to stabilize and the average mortgage rate for a Saskatchewan house, condominium, or townhouse remains low.
In Saskatoon, the benchmark price for a single-family detached home increased by 4.74% from $305,800 to $320,000 between January 2020 and January 2021. Townhouse prices declined slightly from $229,000 to $228,500, while condominium prices rose 5.64% from $166,600 to $176,000.
In Regina, the single-detached home benchmark price increased by 4.7% from $266,100 to $278,600 between January 2020 and January 2021. Townhouse prices also increased, climbing 6.6% from $219,700 to $234,200, as did condominiums, which posted a modest gain of 1.75% from $177,600 to $180,700.
To get a rough idea of the type of home you can afford in Saskatchewan, use a mortgage payment calculator to estimate your monthly payments. Though mortgage payments will account for most of your housing costs, it's also important to consider the cost of property taxes, maintenance, home insurance and, if you buy a condominium, condo fees.
Saskatchewan closing costs and land transfer tax
Closing costs are one-time expenses you will need to pay when you purchase your home. You should set aside funds equal to 1.5%-2% of your home's selling price to cover these extra costs. Below are some of the most common ones you may encounter:
Title insurance
Mortgage default insurance (if your down payment is less than 20%)
Provincial sales tax (PST) on mortgage default insurance (in Saskatchewan, it's 6%)
Property valuation fees
Home inspection fees
Legal fees
Home insurance
Good and services tax (GST) or harmonized sales tax (HST) if you're buying a brand new home or condo
Moving costs
Prepaid utility bills and property taxes
Estoppel certificate if you're buying a condo
Land survey fee
Real Property Report
Saskatchewan doesn't have a land transfer tax. Instead, the province charges a small land title transfer fee:
For a property that costs under $525: $0
For a property that costs between $525 and $8,800: $25.97
For a property that costs $8,800.01 and up: 0.3% of the property value
Your questions about Saskatchewan mortgages, answered.
What's the difference between a mortgage term and an amortization period?
A mortgage term is the length of time your mortgage contract remains in effect at the interest rate set by your lender. Once the term ends, you can renew your contract at a new rate. The term renewal process continues until you pay off your mortgage in full. A variety of mortgage terms are available, ranging from six months to 10 years. The most popular term in Saskatchewan (and across Canada) is a five-year term. The term you select will have a direct impact on your mortgage rate. In general, short terms have lower mortgage rates because lenders assume more risk the longer a mortgage contract remains in force. The rate on a 6-month mortgage term in Saskatchewan will be different than one that extends 10 years into the future.
The amortization period is the amount of time it will take for you to pay off your mortgage in its entirety. In Canada, the maximum allowable amortization period is 35 years; however, it's permitted only to homebuyers who contribute a down payment of 20% or more. If your down payment is less than 20%, the longest amortization period you can commit to is 25 years.
What's the difference between an open mortgage vs. a closed mortgage?
An open mortgage gives you the option to pay off your entire mortgage any time without being penalized. This payment structure is suitable for homeowners who want the added flexibility to make extra payments on their mortgage, or for those who expect to sell their home soon and want to build up some equity. Open mortgage rates in Saskatchewan are higher than closed mortgage rates because lenders bear the risk of losing out on interest income if borrowers pay off mortgages prematurely.
A closed mortgage commits you to a fixed payment schedule for the duration of the mortgage term, with no ability to contribute additional payments. Should you decide to break your contract before the term's end date, you could face substantial penalties. However, most lenders will allow you some leeway and permit extra payments up to a predetermined amount. Interest rates on closed mortgages are lower than those on open mortgages.
How much does it cost to live in Saskatchewan?
Saskatchewan is located in the heart of the Prairies. This is Canada's very own "big sky country," a place for people who love wide open spaces. A province with seemingly endless farmland and vast stretches of wilderness and parks, Saskatchewan is also home to the bustling city of Regina, its capital and commercial centre. The province's economy relies heavily on natural resources, with Saskatchewan producing more than half of Canada's wheat and a major portion of its oil refining capacity.
The overall cost of living in Saskatchewan is low compared to more populous provinces with major cities like Ontario, Quebec and B.C. However, you can expect to pay more in the province's two major cities, Regina and Saskatoon, compared to more rural areas.
Saskatchewan's home prices are among the lowest in Canada, making the province an ideal place for purchasing a property. Mortgage rates in Saskatchewan in 2021 have dropped significantly, making homeownership affordable for more people.
Saskatchewan has a provincial sales tax of 6%. When combined with the GST, this results in a total sales tax of 11%, which is lower than most provinces. The province employs a progressive income tax system with reasonably low rates.
Car insurance in the province is fourth most expensive in the country, with the annual cost of premiums around $1,200. Still, the overall cost of owning a vehicle in Saskatchewan is lower when compared with other provinces, like Alberta and Ontario. Saskatchewan cities are also ranked among the least traffic-congested in Canada.
The province offers a generous incentive for residents to attend a post-secondary institution. Eligible students may apply to the Graduate Retention Program, which provides a $20,000 tuition rebate.
How much does getting a lower interest rate matter in Saskatchewan?
Getting the lowest mortgage rate is just one factor. You also need to consider your mortgage contract's flexibility and explore what options can help save you money. Some features to investigate before signing your mortgage contract include prepayment privileges, penalties, and portability.
Prepayment privileges: If paying off your mortgage sooner is important to you, ensure you discuss prepayment options with your lender. Every financial institution has its unique policy regarding prepayment privileges, with some imposing strict limits, so inquire early about this feature.
Penalties: Should you need to break your mortgage before your term ends, you may incur thousands of dollars in penalties. Mortgage penalties compensate the lender for the interest payments they lose when a borrower ends their mortgage early. The amount in penalties you could face will depend on the type of mortgage you have and the lender's policy, so be sure to discuss this during your negotiation.
Portability: This feature allows you to transfer your existing mortgage to a new property with your current rate, terms, and conditions intact. Essentially, your old mortgage will be combined with a new one. In cases where the mortgage on the new property is larger than your current mortgage, your lender will assign you a revised mortgage rate. The new rate will blend your current mortgage rate and the rate on the additional loan. Porting doesn't involve refinancing and won't trigger prepayment penalties.
Your questions about LowestRates.ca, answered.
How are mortgage rates determined on LowestRates.ca?
LowestRates.ca works with 50+ Canadian banks and brokers to bring you competitive mortgage rates. We work with our partners to obtain their best deals and offers, and then we let them compete for your business. All you have to do is answer a few questions, and in minutes you'll be provided with today's mortgage interest rates for Saskatchewan. There's no obligation, but you can choose to speak with our broker partner to secure your best rate and see if you're eligible for more savings.
Is it safe to get a mortgage online?
Yes, it's safe — you no longer need to visit a bank branch or mortgage broker's office in person to apply for a mortgage. It's becoming increasingly common for Canadians to apply for mortgages online. LowestRates.ca only works with reputable, trustworthy financial institutions. Your credit score won't be affected and your information is secure. We don't share your information with anyone unless you want to connect with a mortgage broker. We take care of the heavy lifting by comparing the market for you and can connect you with the best mortgage lenders in the country.
How do I know I'm getting the lowest rate?
We have a strong selection of lenders on LowestRates.ca including the big banks and many independent providers and we're adding more lenders all the time. This ensures we're always delivering you a competitive rate. Even if you're not ready to commit to anything, you can use our site as a starting point for research (it's totally free, and you're under no obligation).
The better informed you are, the more likely you'll negotiate a better deal for yourself. And, really, that's what we care about the most.
Mortgage news
Homebuying
This article has been updated from a previous version. Getting a mortgage is a big commitment and likely o...
Read the Story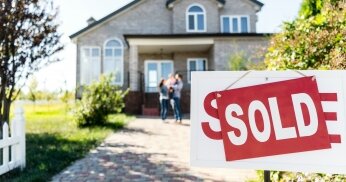 Homes
Real estate markets follow seasonal cycles, and the fall and early winter tend to be the slower of the four. For the bet...
Read the Story
Read More Like This