3-year fixed rate mortgage
Interest rates remain constant for the duration of the 3-year term. At the end of the term, borrowers renew their mortgage and select a new product that best suits their current financial needs. Like all Canadian fixed rate loans, the 3-year fixed rate mortgage follows Government of Canada bond yields -- in this case, the 3-year bond.
Why are borrowers choosing 3-year fixed rates?
Low rates and interest rate security -- it's a winning combination. Rock bottom bond yields and tight credit spreads have pushed 3-year fixed rates to near record lows: lenders are charging less than 4%! This product protects borrowers from rising interest rates for 3 years, while offering rates that are lower than 5-year fixed rates.
Some refer to the 3-year fixed rate mortgage as the 'sweet spot' in the spectrum of mortgage products: you pay a low rate and you're shielded from interest rate hikes. Take a look at how the 3-year fixed mortgage has performed relative to its closest peers: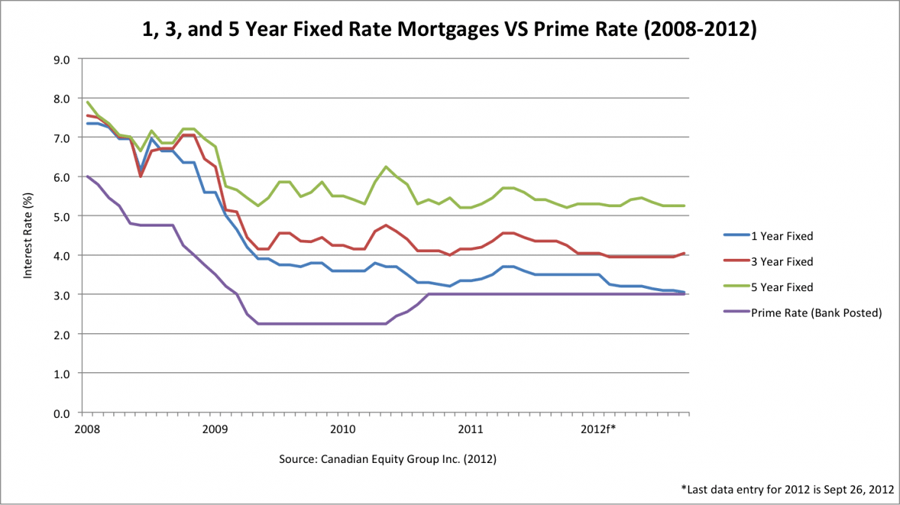 What are the drawbacks of the 3-year fixed rate mortgage?
It's a closed product: if you break the mortgage before the term ends, you have to pay a penalty. With a 3-year fixed, you also run the risk of paying more in interest than with a variable mortgage, which has historically been a better bet. But, of course, no mortgage product is perfect.
Check our graph to see how the 3-year fixed rate mortgage has performed lately compared to the 3-year variable rate: