Compare the best home insurance quotes in Montreal for free.
On average, Montreal homeowners save hundreds of dollars per year by comparing quotes with us.
Get quotes from 75+ Canadian providers in 3 minutes.
0 Canadians
have compared rates and saved money over the last 24 hours
What our users say:
June 5
Awesome work
wow what an awesome rep. He did up everything, extremely fast and was very under...
Delroy Paul
May 26
Quick service
Quick service, good price
dl
May 22
Imad Harrouk was great !
Imad Harrouk was great ! intelligent well spoken professional polite a perso...
james bannon
May 21
Imad Harrouk helped me get the best…
Imad Harrouk helped me get the best home and auto bundle insurance quote. He was...
Amanda Moskowitz
May 20
Excellent !!! Very competitive rates !!
Excellent customer services also they have very competitive rates !!
Eliza Gallant
May 18
I was treated fairly and walked through…
I was treated fairly and walked through my purchase.I enjoyed the agent was exce...
paul neville
May 17
Highly Recommended !
I spoke with Mr. Imad Harrouk of DirectRate for quotes on my car and condo insur...
HL
May 14
Highly recommend
Great experience, simple to use and they gave me a lot of options at prices that...
Chandra Wilson
May 13
Amazing service
Amazing service, Sonia is patient and helpful. Can not complain. I am happy with...
Miroslav Adalbert Elias
May 12
Meghan Ford helped me and she was…
Meghan Ford helped me and she was amazing. I saved $160/month between home and a...
Bruce
May 11
Easy
Easy, clear and fast. Very effective.
Rene Izquierdo de la Cruz
May 6
Sonia was very helpful and nice…
Sonia was very helpful and nice throughout the whole process. She got me the bes...
Ali Al-Rubayee
May 6
I got a hassle-free quick quote from…
I got a hassle-free quick quote from good insurance companies. This site is very...
Sisil
May 6
Very friendly and professional
Very friendly and professional. She always try to help. Really appreciate.
Binod Shrestha
May 5
Imad was extremely helpful and patient…
Imad was extremely helpful and patient with all our requests. He listened to our...
Guy St-Pierre
May 5
He was so amazing
He was so amazing. He went out his way to help me. He deserves a raise Very po...
Shahin Abbaskhan
April 27
Great rates!
Ryan was very helpful and polite.He went all out to find me the best rate. He wa...
Linda Shelton
April 22
Wonderful experience!!!
My call started off with simple inquiries about the quote i recieved. I spoke wi...
emily murray
April 22
The service was excellent
The service was excellent. Emad provided awesome service for me.
John Bowden
April 19
Fast and professional customer service
Fast and professional customer service. All of my questions were answered and I...
P COSTANTINI
April 16
Chelsea was very helpful and a pleasant…
Chelsea was very helpful and a pleasant person to deal with.
Keith Tarala
April 16
simple quick and easy
simple, quick and easy
tony palumbo
April 16
Daina is very professional and very…
Daina is very professional and very helpful! Helped me find auto and home insura...
Mark
April 15
Amazing Service
Daina was amazing so quick and easy and explained everything so so well! I was ...
Tara Schaffner
March 30
You will be hard pressed to find an…
You will be hard pressed to find an online service as accurate, fast, and easy t...
Frederick Armentia
March 25
Searching lower rates for Auto and Home Insurance
I got a good response in looking and finding from several Insurance brokers and ...
Jose Mastromonaco
March 22
Thanks to Mr Imad Harrouk
Thanks to Mr. Imad Harrouk, he helped me get the lowest rate with the insurance ...
Virgo Baby
How we find you the best home insurance in Montreal, QC.
Home insurance isn't required by law, but it is recommended for homeowners and condo dwellers in Montreal. The right insurance policy means you won't have to shoulder the entire financial burden should anything happen to your home. Having home insurance is also a prerequisite for most mortgage lenders.
Your Montreal homeowners' insurance will cover you for expenses incurred from fire, vandalism, and, occasionally, flooding. At the same time, different lenders offer different rates, so doing a little comparison shopping is important.
LowestRates.ca shops the market for you and lets you compare home insurance quotes from 75+ Canadian providers. It's free and no-obligation. We'll connect you with the Montreal home insurance broker or agent that can secure your new (lower) rate.
Our site is updated throughout the day, every day, so that we only bring you the most current home insurance rates for Montreal.
Still want more info about how home insurance works? We'll try to answer some of the more immediate questions you might have about getting house insurance in Montreal.
See how much you could be saving on home insurance.
Type of home
Location
Previous claims
Lowest Rate
Average rate
Saved

Type of home

Detached, 1,191 sq ft

Location

Montréal

Previous claims

None

Lowest Rate

$1,711/yr

Average rate

$2,880/yr

Saved

41.00%

Type of home

Townhouse, 1,888 sq ft

Location

Montréal

Previous claims

None

Lowest Rate

$1,602/yr

Average rate

$3,531/yr

Saved

55.00%
Factors that determine your home insurance quote in Montreal
Your home insurance policy will be customized to suit your needs and the property you're insuring.
Home insurance premiums are determined by dwelling type (is it a single-detached home, a house with a basement tenant suite, or a condo?). Insurance companies also try to predict the kind and size of claim you might make in the future.
Here are some of the criteria insurance companies look at when calculating your premium.
The square footage of your home.
Contents and quality of construction.
The location of your home.
Distance to a fire hydrant.
Your insurance claims history.
The age of your roof.
Your home's plumbing.
Your home's electrical system.
Your questions about Montreal home insurance, answered.
How much is home insurance in Montreal?
Price data for home insurance Montreal is hard to come by. Unlike auto insurance, home insurance is unregulated in Canada. That means private insurance companies do not have to disclose price changes or the average cost of home insurance in Montreal.
Even still, average prices are not a reliable way to determine whether you are overpaying for home insurance. Everyone's home insurance needs are unique, which is why no one pays the average price for home insurance.
Without a detailed picture of your situation and your needs, it's tough to get an accurate sense of how much your Montreal home insurance premium will be.
One of the best ways to estimate your Montreal home insurance costs is to fill out a form on a rate comparison site like LowestRates.ca. That way, you can compare home insurance quotes from 75+ of the top providers across the country. There can be a large variance between providers. It's pretty eye-opening.
The key takeaway from all this? The best insurance rate for your Montreal home will be the one that offers the coverage you need at a price that's manageable for you.
What perils are specific to Montreal?
The following perils are common to Montreal:
Sewage pipe backup. Shifting weather patterns have caused severe rainfalls that current drainage infrastructure cannot accommodate. Flooding can result in sewage backing up into homes.
Overland flooding. Overland flooding occurs when water leaks into buildings through cracks, windows and doors, or when a river or lake overflows due to severe rainfall, causing damage to your home and contents.
Extreme cold. Montreal is known for its icy winters. Extremely cold weather, which causes a buildup of snow and ice, can affect your property in a couple of ways. Pipes can freeze and burst, causing damage to your property and leaving you without a water supply. Passersby can slip and fall, leaving you responsible for their accident.
What does home insurance cover in Montreal?
Risks to your home may differ based on region, geography and neighbourhood. That means premiums for property insurance in Montreal will differ according to your location, the size and condition of your home, and your personal tolerance for risk.
Most home insurance companies in Montreal provide coverage for the following perils in a standard policy:
Damage or loss as a result of an accidental fire.
Wind damage to the outside of your home.
Theft.
Overland flooding is increasingly offered as an add-on to your policy.
What risks won't home insurance cover in Montreal?
Damage or loss as a result of a fire that was set intentionally.
If your roof is not up to standard, your home won't be covered in the case of wind damage.
Theft is covered, but theft after a fire is generally not included.
Earthquake insurance is not standard in most policies, but an endorsement can be purchased in addition to your policy. Since it is an additional coverage, it will raise the cost of your Montreal home insurance policy.
What kind of home insurance do you need in Montreal?
There are several types of policies to meet the needs of Montreal homeowners. Maybe you want full coverage or maybe you want something more economical. While it's best to clarify the specifics with your insurance company, categories include:
Comprehensive or All Perils - This type of policy offers the most coverage for the building and its contents, excluding optional coverage and predicted events which are not included.
Basic or Named Perils - An economical option, if you can cover some costs yourself in the case of damage or loss. This policy will cover only what is specifically stated within it.
Broad - A happy medium between a basic policy and a comprehensive policy, this covers the structure and named contents against any named perils.
No Frills - The option for homes that don't meet the standards of most insurers and require upgrades for structural problems.
Personal liability - If someone is injured on your property and they're not a resident, personal liability insurance will cover some damages. For example, a passerby slips because you have not yet shovelled the snow on your walkway.
Endorsements - These are additional or optional forms of coverage. In Montreal they are recommended for:
Earthquakes.
Sewer backup.
Overland flood damage.
Objects of high-value such as art, furniture and jewellery.
What can you do to find cheap home insurance in Montreal?
Rate comparison sites such as LowestRates.ca can help you find an affordable home insurance policy for your Montreal home. In just three minutes, you can compare home insurance quotes from 75+ of Canada's top insurance providers.
But there are other things you can do to lower your Montreal home insurance rate:
Limit the risk of slips and falls in your home.
Update your home's infrastructure to prevent damage in the case of flooding or an earthquake.
If you can afford to, increase your deductible (the amount you pay out-of-pocket for repairs or replacement).
Install a theft alarm system and smoke detector.
Upgrade your electrical, heating and plumbing systems.
Ask your broker or agent for discounts.
Pay your premium annually instead of monthly.
Quit smoking for a lower risk of fires.
You can opt for less insurance on your home by choosing a basic policy.
Bundle your home and auto insurance policies with the same provider.
What are the best home insurance companies in Montreal?
There is no such thing as the 'best' insurance company for everyone. What matters is that you get the coverage you need at a price you can afford. Shop around and compare Montreal home insurance quotes to ensure that your specific needs will be met.
 Insurance companies will often offer a discounted policy to members of certain alumni associations and clubs that they partner with.
But most importantly, read your policy thoroughly to ensure you ask the right questions and understand everything you're agreeing to.
Most major Canadian home insurance companies serve Montreal homeowners. Compare quotes online from Montreal home insurance providers for your home to find your new best rate.
What if I own a condo or rent? Can I still buy property insurance online?
LowestRates.ca can help renters and condo owners find property insurance. Just indicate which type of policy you're looking for on our quickstart form above.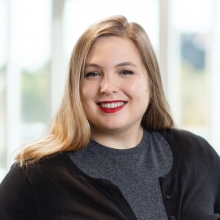 Alexandra Bosanac
About the Author
Alexandra Bosanac is the Core Content Manager for LowestRates.ca. Her reporting has appeared in Canadian Business, the Toronto Star, the National Post, and the CBC.