Compare the best home insurance quotes in Ottawa for free.
On average, Ottawa homeowners save hundreds of dollars per year by comparing quotes with us.
Get quotes from 50+ Canadian providers in 3 minutes.
Compare rates from Canada's leading home insurance providers

25,061

Canadians

have compared rates and saved money over the last 24 hours
September 22
Easy, fast and professional.
I got my home insurance through Lowest rates and had a great experience. Easy, f...
Aubree Campbell
September 22
Was pleasantly surprised by the prompt…
Was pleasantly surprised by the prompt response to my enquiry online. Hope it's ...
Mishu K
August 5
Received a call before I was even…
Received a call before I was even finished submitting information. Super fast se...
Robert Chiasson
August 4
Insurance Premiums
I got all the information I needed with the lowest Auto and Home insurance premi...
joseph almeida
August 4
Great service!
Great service!
Linda RitaOlivier
August 3
They respond very quickly
They respond very quickly. They are very understandable. The representative I sp...
Nuwara47
August 2
Quick efficient and very helpful 👌
Quick efficient and very helpful 👌
Khalilulla Razzaque
August 2
dick
Web page was quick and easy to use
Richard
July 30
Good experience was pretty quick
Good experience was pretty quick
Grant W.Murray
July 29
The agent was friendly
The agent was friendly, helpful and polite. All in all a good experience.
KaneezAla
July 29
Extremely simple
Extremely simple, and fast process.
JaniceGiannitti
July 26
excellent
excellent, professional service
SabinBaidoc
July 23
Very kind and helpful
Very kind and helpful
April Shannon
July 22
Easy to find easy to use website which…
Easy to find easy to use website which provided me with options.
Randall McLellan
July 22
Excellent service
Excellent service
Sven Zorz
July 21
They were great
They were great
ChristinaLain
July 21
Excellent pricing
Excellent pricing
pankaj joshi
July 16
I needed a quote for tenant insurance…
I needed a quote for tenant insurance and was able to find an amazing company wh...
Benjamin Bohnsack
July 10
Review for low rates
Lowest rate did send me to the desired rental insurance rates, which I was able ...
JOY cumberbatch
June 18
Fast service
I was on line researching home and auto insurance, at one point I clicked on the...
T. Thompson
May 28
I used lowestrates to find great rates…
I used lowestrates to find great rates for both my car insurance and for renter'...
Alexandre Williot
April 12
This website (LowestRates.ca) makes…
This website (LowestRates.ca) makes your decision on which insurance is the les...
Sabah Salih
March 30
every time i use lowest rates i get a…
every time i use lowest rates i get a good deal--so much for loyalty pricing wit...
Donald ADESCHAMPS
March 20
Real options to save
Lowest Rates. CA has been extremely helpful I've gone through my ups and downs b...
Amir Isakovic
March 15
Very good.
Very good, and the Rates you have stated is great. Please wait till I see the ba...
Ian Stevens
March 10
Good customer service
Good customer service
Lina Bella
March 4
Awesome and free!
Always use this site to find all types of insurance. I am yet to find better quo...
Jey
March 3
Great team and amazing communication…
Great team and amazing communication skills. Very straight forward to get an est...
Andre F MPereira
February 23
Hi your site was easy to use
Hi your site was easy to use . I had no problem to get answers to my questions. ...
Teresa Bourque
How comparing
home insurance

quotes works. Hint: it's free!
Share
First, we need to know about you and your home. It only takes 3 minutes, and it's 100% confidential.
Compare
Next, we'll show you quotes from 50+ Canadian providers. It's free, with no commitment.
Save
When you find the best quote, secure your Ottawa home insurance rate by talking to a licensed broker or agent.
How we find you the best home insurance in Ottawa.
Like with the rest of Canada, home insurance is not a legal requirement for Ottawa homeowners, but it's essentially a must-have. That's because most banks and lenders require mortgage holders to also have home insurance. And when you consider what homes represent — security, family, shelter, community — it's no wonder they need to be protected.
For many property owners, home insurance — which can also refer to condo and tenant insurance — can be confusing. What exactly does it cover? How much coverage do you need? How do you purchase coverage? That's where we can help. LowestRates.ca compares the insurance market for you and connects you with a qualified home insurance agent or broker serving Ottawa.
This ensures that you'll find the right amount of coverage, at the right price, for your property's unique needs.
This page will provide an overview of everything you need to know about purchasing home insurance in Ottawa, Ontario. Read along and make sure you're well-informed before taking out a policy to protect what's likely your most important investment.
When you're ready, take three minutes to compare home insurance rates in Ottawa. We'll show you home insurance quotes from 50+ Canadian providers. It's free and no-obligation and by shopping the market, you'll know that you'll have found the best price on home insurance in Ottawa.
See how much you could be saving on home insurance.
Type of home
Location
Previous claims
Lowest rate
Average rate
Saved

Quote from October 02, 2022

Type of home

Semi-detached 1,425 sq ft

Location

Ottawa

Previous claims

None

Lowest Rate

Average rate

Saved

Quote from October 02, 2022

Type of home

Townhouse 2,005 sq ft

Location

Ottawa

Previous claims

None

Lowest Rate

Average rate

Saved
Factors that determine your home insurance quote in Ottawa
Your home insurance policy will be customized to suit your needs and the property you're insuring.
Home insurance premiums are determined by dwelling type (is it a single-detached home, a house with a basement tenant suite, or a condo?). Insurance companies also try to predict the kind and size of claim you might make in the future.
Here are some of the criteria insurance companies look at when calculating your premium.
The square footage of your home.
Contents and quality of construction.
The location of your home.
Distance to a fire hydrant.
Your insurance claims history.
The age of your roof.
Your home's plumbing.
Your home's electrical system.
Your Ottawa home insurance questions, answered.
How much is home insurance in Ottawa?
The cost of home insurance in Ottawa can vary by insurer. LowestRates.ca does not publish the average cost of home insurance in Ottawa because it isn't representative of what most customers will end up paying — your home insurance premium will be determined by your unique situation and needs.
Ultimately, the best home insurance rates in Ottawa are the ones that provide the coverage you need and charge premiums that are sustainable. Not only can LowestRates.ca provide you with the cheapest Ottawa home insurance, but our experienced brokers and agents will also review the policy with you to ensure that it includes all the coverage you need. Speak with your agent or broker about whether the cheapest home rate actually provides enough coverage for your home and its contents.
The best way to get an estimate on home insurance in Ottawa is to apply for a quote. At LowestRates.ca, you can compare home insurance quotes from 50+ of the top providers across the country.
What perils are specific to Ottawa?
Severe thunderstorms. Ottawa occasionally experiences severe thunderstorms, capable of causing torrential rainfall, hail, lightning, and even tornadoes or hurricanes.
Strong winds. Like much of the province, Ottawa is subject to strong winds that are capable of dangerous gusts of over 100km/h.
Earthquakes. While not a major risk in Ontario, earthquakes have been known to occur, and are actually most common in the Ottawa region. The damage from earthquakes can range from negligible to severe, and most home insurance policies will not cover any damage.
Overland flooding. Situated on the Ottawa River and near a number of other bodies of water, Ottawa is at risk of flash flooding. Overland flooding — which is now the primary reason for home insurance claims in Ontario — occurs when heavy rainfall or melting snow cause water sources to fill beyond their usual confines, spilling out into streets, homes, vents, and basements. Water damage can be very costly to repair, and most home insurance policies do not cover damage caused by backed-up sewers, overland flooding, or storm surges.
Extreme cold. As the world's coldest capital city, Ottawa is no stranger to exceptionally cold winters. It's not uncommon for the city to experience temperatures of -30 C, not including the wind chill. These frigid temperatures can cause ice damming, which is when a layer of ice melts and refreezes (also known as 'freeze-thaw' weather) causing water to seep into homes. Although ice damming is sometimes covered in basic home insurance policies, it's wise to always ask your broker if your home is protected against it. Extreme cold can also result in frozen pipes, which are also sometimes covered, but always ask your broker for details.
What perils does home insurance cover in Ottawa?
House insurance protects your Ottawa home and its contents against a variety of unexpected perils. Most basic policies protect you against the following:
Fire damage.
Break-ins and theft.
Vandalism.
Smoke damage.
Falling objects.
Civil unrest.
Vehicle or aircraft impact.
Explosions.
Wind damage.
Hail damage.
Most home insurance policies also protect you if a person is injured on your property. And if you accidentally damage someone else's property — in Ottawa, elsewhere in Canada, or abroad — you will be protected against the subsequent repair costs. Furthermore, most home insurance policies cover detached buildings on your property, such as garages or sheds, and some will cover the living expenses you may face if you're temporarily forced out of your home during repairs (e.g., hotel, short-term home, apartment rental). Because repairing or replacing things like appliances, electrical work, floors, ceilings, and personal belongings can be hugely expensive, home insurance is strongly recommended for Ottawa homeowners.
What perils won't property insurance cover in Ottawa?
Unfortunately, not every unexpected peril that can impact your home is covered by basic home insurance. Here are a few events that usually require additional coverage:
Damage resulting from flash floods or overland flooding. Water damage resulting from burst pipes or overflowing toilets is usually covered, but additional coverage is typically required to protect against flooding.
Loss of high-value belongings. Most standard home insurance policies will cover some high-value items, but if the value of a specific item — think jewelry, artwork, watches, furs, etc. — exceeds your policy's limits, it won't be covered. So if you have anything especially valuable that you'd like covered, look into additional coverage.
Earthquake or landslide damage. Additional coverage against these incidents would need to be purchased separately.
Pest damage and infestations. Damage caused by insects, birds, rodents, bats, or skunks is considered to be part of home maintenance and is thus incumbent upon the homeowner to guard against.
General wear and tear. Homeowners are expected to keep their homes up to date and protect against deterioration. Therefore any wear and tear that results in home damage are not usually covered.
Home-based businesses. If you're running a business out of your home, you will most likely require additional coverage to ensure that your business-related items are protected, such as inventory, equipment, computers, software, and furniture.
What kind of home insurance do you need in Ottawa?
Four basic types of homeowners insurance are available in Ottawa:
Comprehensive or All Perils - This is the most comprehensive coverage available, covering the home and its contents against all unexpected perils, excluding those uninsurable events mentioned in the section above (e.g., flood damage, loss of high-value items, earthquake damage, etc.).
Basic or Named Perils - This insurance covers your home and its contents against perils that have been listed in the policy. It's less costly than comprehensive coverage, but it also covers less.
Broad - This is in between 'comprehensive' and 'basic' policies. It covers some high-cost items — such as the structure of the house — in addition to certain named perils.
No-Frills - A no-frills policy offers basic coverage for properties that cannot normally be underwritten. Ask your broker if a no-frills policy is appropriate for your property.
Here are a few additional home insurance coverages available in Ottawa:
Fire department charges. Covers the fees charged by the fire department for visiting your property for an insured peril.
Mass evacuation. Covers the living expenses due to mandatory evacuation from your property.
Counterfeit money and cheques. Covers you if you unknowingly accept fake money or if one of your cheques is altered or forged.
Lock replacement. Covers the cost of replacing the door locks on your home if your keys are stolen.
Frozen foods. Covers the cost to replace frozen foods if your freezer breaks down.
What can you do to save on home insurance premiums in Ottawa?
Don't assume your rate can't get lower. Do your homework and make sure you have sufficient coverage at the best price. Here are some things you can try to make home insurance in Ottawa more affordable:
Shop online for the best rate.
Bundling your vehicle insurance and home insurance with the same company can save you money.
Purchase an endorsement to guard against a premium increase following a claim. These endorsements are typically referred to as 'claims protectors.'
Credit counts. A good credit score can often mean a better policy.
Tell your broker about your home's safety features, including fire alarms, smoke and carbon monoxide detectors, indoor sprinkler systems, and security alarms.
Increasing your deductible usually results in a lowered premium.
Only insure the replacement value of the home itself, not the land on which it sits.
Don't claim for small items. They can increase your premium and often aren't worth it after the deductible.
Stop smoking. It's bad for your premiums and your health.
Pay annually. There's usually a break if you pay once a year instead of monthly.
Remove dead trees and hanging objects that could damage your home during a storm.
What are the best home insurance companies in Ottawa?
There is no single insurance company that's considered "the best" for everyone. That's why it's important to shop around and find the right coverage — at the best price — for your property.
A good way to find a trustworthy company is to ask family and friends who they use and if they're happy with the service and coverage. Alternatively, you can turn to a site like LowestRates.ca, as we carefully vet all of our broker partners to ensure that our users end up with professional and trustworthy companies. It's free to compare home insurance quotes from 50+ of Canada's top insurance providers.
Each provider offering home insurance has unique coverages, features and pricing. LowestRates.ca only provides quotes from notable home insurance providers that Ottawa homeowners can trust.
What if I own a condo or rent? Can I still buy property insurance online?
LowestRates.ca can help renters and condo owners find property insurance. Just indicate which type of policy you're looking for on our quickstart form above.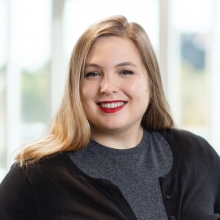 Alexandra Bosanac
About the Author
Alexandra Bosanac is the Core Content Manager for LowestRates.ca. Her reporting has appeared in Canadian Business, the Toronto Star, the National Post, and the CBC.