Compare the best home insurance quotes in Hamilton for free.
On average, Hamilton homeowners save hundreds of dollars per year by comparing quotes with us.
Get quotes from 50+ Canadian providers in 3 minutes.
Compare rates from Canada's leading home insurance providers

19,907

Canadians

have compared rates and saved money over the last 24 hours
September 21
Promp response upon filling…
Promp response upon filling questionnaires,courteous representative.
arturo morales
September 21
They were really quick
They were really quick, and very helpful.
Katrina
September 20
On rate
The rates are very interesting
Georges Joseph
September 19
Very skilled people
Very skilled people Answered all my questions
Mike Walter
September 19
Helpful and go me a great low rate on my insurance
I was looking around for insurance for a bit, but with lowestrates it was drasti...
Nicholas
September 19
Amazing company.
Very professional company. So easy to use 5 ⭐️
Paul
September 15
well informed agent and fast respond.I…
well informed agent and fast respond.I can say one of the better one in the indu...
aj azma
September 15
The service was fast and easy
The service was fast and easy, the word came back way lower than what I was payi...
Lorne Caul
September 14
Fast response
Fast response, great price!
Thuan Nguyen
September 10
The representative was very sweet and…
The representative was very sweet and understanding.
Faouzi Idrissou
September 9
responsive to what I need was calling…
responsive to what I need was calling me while I was still on the website, I tho...
Curtis Leong
September 9
They show lower rates than my insurance…
They show lower rates than my insurance company I have been with for over 30 yea...
Ingeborg Hahn
September 9
Convenient way to do something that can…
Convenient way to do something that can be a pain in the b.... Thank you
Rick
September 8
I received all the information i was…
I received all the information i was interested in. Very nice service.
Wlodzimierz Wojtysiak
September 8
Most of the staff was very prompt and…
Most of the staff was very prompt and knowledgeable. The online application is e...
Karen Hall
September 7
Easy to use and call back promptly
Easy to use and call back promptly
Donna DAmore
September 6
Very helpful
The company is doing great. They tell you what is the best for you to do
Susan Paradero
September 3
Great Service! …
The person I spoke with was incredibly helpful and very polite. He was also pati...
Catherine White
How comparing
home insurance

quotes works. Hint: it's free!
Share
First, we need to know about you and your home. It only takes 3 minutes, and it's 100% confidential.
Compare
Next, we'll show you quotes from 50+ Canadian providers. It's free, with no commitment.
Save
When you find the best quote, secure your Hamilton home insurance rate by talking to a licensed broker or agent.
How we find you the best Home Insurance in Hamilton.
If you own your home, you already know the benefits of ownership don't come cheap: on top of mortgage payments, there are utility bills, property taxes, and maintenance fees if you live in a condo. All of this makes it hard to get enthused about adding home insurance to your list of expenses, but it's a necessity. Plus, why wouldn't you want to protect one of the most expensive things you've ever purchased? That's why finding the right home insurance in Hamilton, Ontario is so important.
A good policy can help you deal with financial losses if your belongings are ever damaged or stolen. It can also help you get back on your feet financially if your home itself is ever damaged.
With LowestRates.ca, you can compare home insurance quotes from Hamilton's top home insurance brokers and agents in just a few minutes. All you have to do is select the best home insurance rate in Hamilton and a provider will be in touch to help you secure it. We even quote home insurance companies that take care of the entire process online.
But just as there are many different types of homes, there are many different types of home insurance policies. We've created a crib sheet of all the things that you need to consider if you're buying home insurance in Hamilton, Ont. — including how to choose an insurance company that will give you the right amount of coverage at the right price.
See how our customers in Hamilton save big on home insurance.
Type of home
Location
Previous claims
Lowest rate
Average rate
Saved

Quote from September 22, 2023

Type of home

Detached 1,174 sq ft

Location

Hamilton

Previous claims

None

Lowest Rate

Average rate

Saved

Quote from September 22, 2023

Type of home

Detached 1,812 sq ft

Location

Hamilton

Previous claims

None

Lowest Rate

Average rate

Saved

Quote from September 21, 2023

Type of home

Detached 1,319 sq ft

Location

Hamilton

Previous claims

None

Lowest Rate

Average rate

Saved
Home insurance quotes are compared from CAA, Dominion Insurance, Duuo Insurance, Economical Insurance, Gore Mutual, Max Insurance, Pembridge, SGI, Square One Insurance, and Wawanesa Insurance.
Factors that determine your home insurance quote in Hamilton
Your home insurance policy will be customized to suit your needs and the property you're insuring.
Home insurance premiums are determined by dwelling type (is it a single-detached home, a house with a basement tenant suite, or a condo?). Insurance companies also try to predict the kind and size of claim you might make in the future.
Here are some of the criteria insurance companies look at when calculating your premium.
The square footage of your home.
Contents and quality of construction.
The location of your home.
Distance to a fire hydrant.
Your insurance claims history.
The age of your roof.
Your home's plumbing.
Your home's electrical system.
Your home insurance questions, answered.
How much is home insurance in Hamilton?
Your home insurance premiums in Hamilton could be based on a number of things, which is why it's difficult to say exactly what your home insurance price in Hamilton will be. Because insurance is a custom product, your costs will depend on the home insurance company in Hamilton you choose to work with. Furthermore, the average cost of home insurance in Hamilton probably won't be what you'll pay.
One of the fastest ways to get an Hamilton home insurance estimate is to fill out a form on a rate comparison site like LowestRates.ca. We'll compare home insurance quotes from 50+ of Canada's top insurance providers.
To see the current home insurance rates in Hamilton, enter your postal code and click the "Get Started" button.
What perils are specific to Hamilton?
Living in Hamilton has a lot of perks. It's cheaper than Toronto, yet close enough to the city that you can easily visit. It has a vibrant arts community and it's right on scenic Lake Ontario. While property insurance in Hamilton doesn't differ greatly from property insurance in other cities, there are some specific risks to be aware of.
Flooding. According to the government of Canada, floods are the most frequent natural hazard in the country. They can wreak havoc on your home by inflicting structural damage. Melting snow, ice jams, heavy spring rains and summer thunderstorms are some of the weather events that can trigger a flood.
Blizzards. The winters in Ontario can be frigid and Hamilton is not exempt. Blizzards can damage your windows and roof. They can also freeze pipes, trigger power outages and flooding, or cause your roof to collapse if too much snow piles up.
Earthquakes. Though not a frequent occurrence, the Golden Horseshoe region (the most densely populated region in Ontario, which includes Hamilton) has been known to experience earthquakes. A 5.2 earthquake originating in Quebec rattled Hamilton in 2013.
What does home insurance cover in Hamilton?
Home insurance policies provide financial support if you ever need to repair your home, replace your belongings and cover legal costs in case anyone gets injured on your property and wants to sue. They can also help cover the cost of alternative accommodations if you need to relocate temporarily.
Generally speaking, house insurance in Hamilton will cover:
Repairs to structural damage caused by certain types of perils.
A home's contents, including the personal belongings of the home's residents, and the belongings of guests. Personal belongings include electronics, clothing, silverware, jewelry, sporting equipment, trees and plants. However, most insurance policies do put a limit on these types of benefits.
Liability, which protects the policyholder and family members from lawsuits as a result of bodily injuries. The insurance policy will pay legal costs up to the limit of the policy. What many people don't know about home insurance is that a typical policy will also cover liability or negligence anywhere in North America.
Generally speaking, your home insurance coverage in Hamilton will include the following risks:
Fire.
Lightning.
Smoke damage (excluding damage caused by fireplaces).
Theft.
Vandalism.
Wind and hail.
Water damage.
Broken windows.
Electrical current.
Explosion.
Falling objects (unless propelled by a landslide, avalanche, or earthquake).
If you live in a condo, you'll need to purchase a personal car insurance policy.This is different from your condo corporation's commercial policy, which does not cover your individual unit. A personal condo insurance policy will cover the following things:
Personal property: This might include clothing, furniture, appliances and other miscellaneous items stored in your locker.
Additional living expenses: This covers you if you're forced to temporarily relocate due to damages to your unit.
Liability: Your personal liability for any injury or damages caused to others while in your unit. In addition, this will also provide coverage if you're sued for negligence anywhere in North America.
Loss Assessment: This element of your condo insurance policy will depend on the extent of the insurance policy held by your condo corporation. This type of coverage includes situations where your condo corporate policy is insufficient to cover the loss or damage.
What risks won't home insurance cover in Hamilton?
Of course, home insurance won't cover every type of risk. Most home insurance providers in Hamilton won't cover two kinds of risks: uninsurable perils and optional coverage.
Some commonly excluded risks include:
Sewer backup.
Landslides.
Damage from freezing outside the home.
Damage from insects and rodents.
Damage to property acquired illegally.
Flooding caused by overland water.
Earthquakes.
Pollution.
Water damage caused by frozen or burst pipes in the winter.
If you want to beef up your home insurance to protect your home against these perils, you can purchase additional coverages, which are called "endorsements" in the insurance world. Adding endorsements will enhance your coverage, but it will push up the cost of your premium.e that is expected or intended by the insured.
It's important to ensure that you've purchased a policy and additional add-ons that adequately protect your assets, which is where endorsements could come in handy. For instance, excluded risks such as sewer backup and flooding caused by overland water are available as endorsements on your policy. While you may be able to buy a home insurance policy that excludes these items, our internal experts advise against it. This is because the damage caused by these risks may amount to expensive repair costs.
When it comes to personal condo insurance, here's what's usually not covered:
Water damage caused by flood or underground water.
Earthquakes and mudslides.
Damage caused by settling, deterioration, or contamination.
Damage caused by birds, rodents, insects, or domestic animals.
Bodily injury or property damage that is expected or intended by the insured.
Business activities.
What kind of home insurance do you need in Hamilton?
Standard homeowners insurance in Hamilton comes in four different forms: comprehensive, basic, broad, basic and no frills.
Comprehensive - This type of insurance will give you the most coverage. A comprehensive policy covers damage caused by all insurable perils to your property and contents. The only exceptions are the risks that are covered by additional endorsements or risks that are explicitly excluded from most policies (see above).
Basic or Named Perils - This type of insurance will only cover your property against the risks that you name in the policy.
Broad - Broad home insurance policies fall between a comprehensive and basic home insurance policy. It offers comprehensive coverage if the structure of your home is damaged, but will only offer basic coverage for your belongings.
No-Frills - No-frills policies give you the absolute minimum in terms of coverage. This type of insurance usually only covers your home in the case of fire and a handful of other common risks. Homeowners usually only get no-frills insurance when their homes have structural issues that make them ineligible for a basic policy. No-frills insurance can protect what you own while you are making upgrades or repairs, but once your home is up to your insurer's standards, you can — and should — switch over to another type of policy.
Because every home is unique, you'll want coverage for the hazards that you're most likely to face in your home and neighbourhood. If your policy doesn't offer coverage for flood damage, for example, ask your broker or insurance provider whether they offer an add-on for it. While purchasing extra coverage will likely increase home insurance premiums for Hamilton residents, it's important to ensure that your assets are adequately protected. If your assets aren't properly protected, the costs of repairs and damages might outweigh the cost of additional coverage.
What can you do to save on home insurance in Hamilton?
There's almost always something you can do to reduce the price of your home insurance premiums while still getting the coverage you need. These include:
Bundling your home and auto policies with the same insurer.
Raising your credit score.
Installing a home sprinkler system.
Installing a home alarm system.
Purchasing a 'claims protector', an optional product that will stop your premium from going up if you make a claim.
Avoid making small claims.
Don't smoke indoors.
Comparing quotes from different companies — never settle for the first option.
What are the best home insurance companies in Hamilton?
Here's the thing: there isn't one insurance company that will be the best choice for absolutely everyone. Every homeowner has unique needs.
The best way to find a good insurance provider is by shopping around. Compare the quotes, type of coverage and the level of customer service provided by each company to find a policy that fits both your coverage needs and your budget. Also, check each company's rating from insurer rating agencies like A.M. Best and read reviews about its trustworthiness. If you're still unsure, you can contact the Better Business Bureau to see if it has received any complaints against the company or brokerage.
What if I own a condo or rent? Can I still buy property insurance online?
You're in luck! LowestRates.ca offers policies to renters and condo owners. If you're on the market for either of these policies, you can actually fill out the property insurance form above and select the Condo Insurance or Renters Insurance option on the first page. If you're looking for more information about either of these products, feel free to visit either our dedicated Condo Insurance or Renters Insurance pages.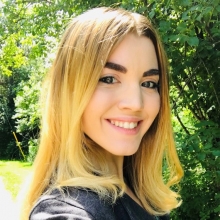 Jessica Vomiero
About the Author
Jessica is the former Associate Editor for LowestRates.ca. Before joining the team, Jessica worked as a National Online Journalist with Globalnews.ca and previously spearheaded the launch of the Business Section at one of Canada's largest technology websites, MobileSyrup.