Compare Johnson home insurance quotes with other top insurance companies.
On average, Canadian homeowners save hundreds of dollars per year by comparing quotes with us.
Get quotes from 50+ Canadian providers in 3 minutes.
22,517

Canadians

have compared rates and saved money over the last 24 hours
Join the millions of Canadians saving money on home insurance
The first rule of saving money is to shop around for the best price. Make sure you're not overpaying for home insurance by comparing insurance providers before you settle on one. LowestRates.ca makes comparing multiple home insurance companies a snap. We don't sell insurance — we're completely independent — but we can show you which insurer is offering the lowest price. Just enter your postal code and in 3 minutes we'll show you rates from Canada's big banks and independent lenders. Best of all? It's free.
January 28
This ppl are amazing and very…
This ppl are amazing and very understanding my situation. The costumers Services...
Glenda Amaya
January 28
Excellent service
Excellent service, very professional and helpful. Waiting for the response from ...
Nazira Rawjee
January 24
Excellent and efficient
Excellent and efficient, friendly service.
Lola
January 24
choice!!!!!
choice!!!!!
chrischristoff
January 23
It was quick and precise info which led…
It was quick and precise info which led me directly to lowest insurance premium ...
SLAWOMIRPODLESNY
January 22
There service is great
There service is great, I have no complaints. 👌
HeronBeckford
January 22
Great experience and got a good deal on insurance
Great experience gotta good deal on insurance an agent was very good at his job,...
OLIVER
January 21
Preparedness on behalf of contact team
Preparedness on behalf of contact team
TerryPetznick
January 20
Great customer service!
Great customer service!
Ron Zeraldo
January 18
The company was very quick and…
The company was very quick and efficient at getting someone to help me with a qu...
Susan
January 17
Very prompt service and friendly staff
Very prompt service and friendly staff
Roberta Boswell-Gobay
January 14
Excellent service
Excellent service, fast, easy and saved over $600 a year!!
RobTurner
January 13
Extremely quick and helpful response
Extremely quick and helpful response
KrisEggleton
January 12
Simple to use website.
Simple to use website. Range of prices for different companies . Very quick foll...
Roy Bucciol
January 11
Representative was very professional…
Representative was very professional and answered all my questions.
tek
January 6
Very professional and have patience…
Very professional and have patience answering my questions
ReynaldoBautista
January 5
timely response straitforward discussion.
timely response. straitforward discussion.
garnetmoore
December 31
Professional knowledgeable staff
Very quick response to my application. Professional knowledgeable staff. Smoot...
Jamie Hotrum
December 22
Barrett was extremely helpful and…
Barrett was extremely helpful and patient! I just moved back to Ontario and he h...
Leiah Otten
How comparing
home insurance

quotes works. Hint: it's free!
Share
First, we need to know about you and your home. It only takes 3 minutes, and it's 100% confidential.
Compare
Next, we'll show you quotes from 50+ Canadian providers. It's free, with no commitment.
Save
When you find the best quote, secure your rate by talking to a licensed broker or agent.
About Johnson home insurance.
Percie Johnson founded Johnson Insurance in St. John's, N.L., in 1880. It remained a family business for the next century, with Percie's son and grandsons leading the company through decades of growth.
In the 1950s, Johnson became the first Canadian insurance firm to offer clients a monthly payment option for their premiums. Ten years later, it became the first insurer to offer clients a complete range of benefits under a single plan, with a single payment.
Today, Johnson is a subsidiary of RSA Insurance Group, a U.K.-headquartered multinational insurance company. RSA added Johnson to its portfolio of Canadian companies in 1997, which also include Western Assurance and Canadian Northern Shield. Johnson has 1,400 employees and 30 offices across Atlantic Canada, Ontario, Alberta and British Columbia. It reaches other parts of Canada via its website with a general focus on home insurance (excluding Nunavut) and auto insurance, except in B.C., Saskatchewan and Alberta.
Johnson's policies are primarily underwritten by Unifund Assurance Company, another subsidiary of RSA Insurance Group. Johnson also offers group benefit programs.
In 2018, Johnson launched a rebranding campaign to promote itself as a customer-centric company. Its mascot, a Newfoundland dog named Johnson, represents the firm's Maritime roots.
How consumers review Johnson home insurance.
Johnson's home insurance arm placed seventh on J.D. Power's 2019 Overall Customer Satisfaction ranking for the Atlantic provinces and Ontario with a total score of 756 out of 1,000. It ranked highest among companies with "average" scores and came in 35 points behind The Co-operators, which topped the list with a score of 791.
It did not rank in Quebec or Western Canada, indicating it didn't have enough customers in those regions to generate a statistically significant score.
Province
User satisfaction rating
Atlantic/Ontario

 

 

 

 

 

Quebec region
—
Western region
—
Factors that determine your home insurance quote
Your home insurance policy will be customized to suit your needs and the property you're insuring.
Home insurance premiums are determined by dwelling type (is it a single-detached home, a house with a basement tenant suite, or a condo?). Insurance companies also try to predict the kind and size of claim you might make in the future.
Here are some of the criteria insurance companies look at when calculating your premium.
The square footage of your home.
Contents and quality of construction.
The location of your home.
Distance to a fire hydrant.
Your insurance claims history.
The age of your roof.
Your home's plumbing.
Your home's electrical system.
The Johnson home insurance advantage.
Discounts
Bundling discount: Johnson offers discounts on premiums for homeowners who use the company's other insurance products as well.
Affinity Group Discount: If you belong to a group with which Johnson has an affinity program, such as a professional organization, you may be eligible for discounts on your home policy.
Special programs
Umbrella Liability - Johnson home insurance customers may be eligible for the company's Umbrella Liability policy add-on. This program extends your personal injury and liability coverage by up to $5 million on top of your policy's existing benefit. It also offers protection in the event of various legal risks.
Enhanced Water Coverage - Johnson offers insurance options to protect against water damage to your home. The basic product is the "Limited Sewer Backup Endorsement," which protects against backup or water escape from sewers, sumps and septic tanks.
If you experience a sewer backup, this policy will also pay $1,500 toward the installation of an approved loss-prevention device to protect your home going forward. Johnson's Enhanced Water Coverage includes all of the features of the Limited Sewer Backup endorsement and adds coverage for damage from freshwater flooding. It also covers water escape from downspouts, eavestroughs and drains.
Johnson has also introduced a new program for water and sewer lines connected to your home. It offers up to $15,000 in coverage.
Other endorsements - For additional premiums, Johnson will provide coverage for concerns such as home business, watercraft, special items, identity theft and building code changes that make the cost of replacing your home in the event of, say, fire, more than the coverage in your existing policy. Speak to your broker or agent for details.
Is there an app?
The Johnson Insurance Connect app is available on iOS and Android. The app allows users to access their home and auto insurance information while on the go. The app allows users to do the following; use your smartphone to display your card instead of carrying a hard copy, submit a claim or loss for your home or vehicles (as well as take pictures to upload with the claim, update your insurance information, review your policy snapshot or contact an agent.
How to submit a claim with Johnson home insurance
Johnson offers a 24/7 telephone claims service. Customer service representatives will explain your options and make arrangements for the repair of your property.
Phone:

Home and auto claims: 1.844.230.2274
Hours of availability: 24 hours

General Inquiries: 1.844.896.6977
Hours of availability: Monday - Friday: 8 a.m.- 6 p.m. (EST), Saturday - Sunday: Closed

Online:

Chat with a home insurance specialist on Johnson's website
Hours of availability: Monday - Friday 8:30 a.m. - 6:30 p.m. (EST)

Submit a claim through the Johnson Insurance Connect app
Hours of availability: Download in Apple's App Store or Google Play Store.
What else does Johnson Insurance do?
Auto insurance
Group benefits, including life, health, dental and disability insurance
Travel insurance (for group plan members)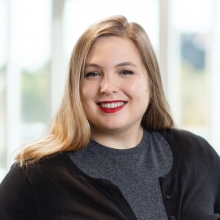 Alexandra Bosanac
About the Author
Alexandra Bosanac is the Core Content Manager for LowestRates.ca. Her reporting has appeared in Canadian Business, the Toronto Star, the National Post, and the CBC.